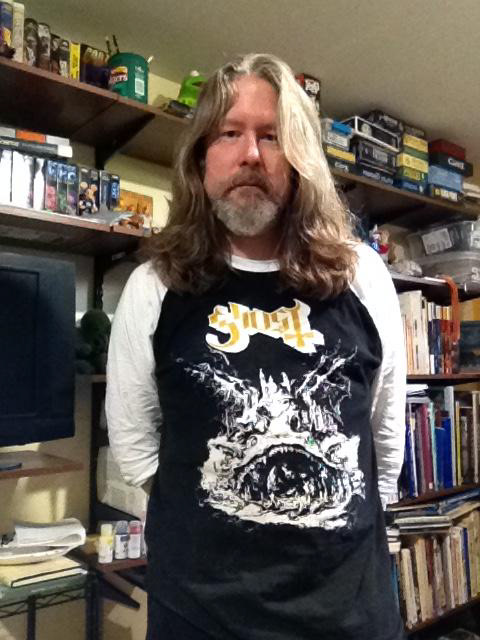 Jay Trefethen is a self taught artist currently living in Bradford, Vermont, though he grew up in New Hampshire. Jay has always enjoyed drawing. As a child, the world of paper and pen created a pleasant and safe haven for a shy and reflective youth who was often at odds with a world that has little patience with an introspective soul.
He never stopped drawing, even after he grew up (though some would argue whether or not he ever really did grow up.) Even though he lacks a formal education in art, practice does make perfect, and as the years pass, Jay keeps getting better at his craft.
Jay Currently makes his living as a woodworker at the world famous furniture shop, Pompanoosuc Mills. In addition to this, Jay also takes care of his spouse, Meredith, who is handicapped due to radiation used to cure brain cancer. Between these two obligations, Jay's free time comes at a premium. However, he always makes time for drawing and painting. Just as  when he was a child, the world of art is his safe haven.
I love to draw and paint whimsical and imaginative subjects. Crocodile pirates, mischievous witches and castle stomping dragons are the denizens of my imagination. When people look at my paintings, I want them to be surprised, amused and intrigued by my work. I often paint with only black and white, in a pen and ink style, as the elegant somberness of the solid black and solid white contrasts pleasingly with my whimsical subjects. I work in acrylics an oils on cradled panels that I make myself. I work hard to make my paintings as durable, permanent and stable as possible. After all, whimsy is timeless.
I've appeared in numerous juried art exhibits over the years, including shows at the AVA Gallery (Lebanon, NH,) the Springfield Historical Society (Springfield, VT,) and The Newport Library Arts Center (Newport, NH.)
My cousin Amanda Toppin and I have published a children's book through lulu.com; Seedy Treefeather
I am frequently commissioned to paint portraits of people and pets.
I helped illustrate the graphic novel by Dustin Warburton, Strange Things. Unfortunately this is out of print.
I illustrated the children's book The Legend of Casey Rock, by Elizabeth Grey, also out of print. 
I did the logo for the International Cryogenics Conference, Cryocooler 9. 
Other commissions include tattoo designs, murals, posters, wood burned portraits and custom auto art.
I've appeared in several magazines, including the science fiction magazine, Space & Time, and the trade newsletter Ruger Insight.
For Ten years I ran the t-shirt airbrush studio Night Air Studios, traveling to fairs and festivals in New Hampshire and Vermont, freehand airbrushing t-shirts on the spot for people. It was quite fun at first, but after a while I felt more like a t-shirt vender than an artist, and so I packed it in.
My new best friend in the studio is my vintage Paasche Flow Pencil. This is an awesome tool, one of the art world's best kept secrets. It is sort of an industrial strength fountain pen, that can handle paints as well as inks. I've been experimenting with using it to bridge the gap between my pen and ink drawings and my acrylic paintings. So far the results have been amazing.
I've also been playing around with Stewart Semple's line of small batch acrylics, especially his Black 2.o, and have been really impressed with the quality.