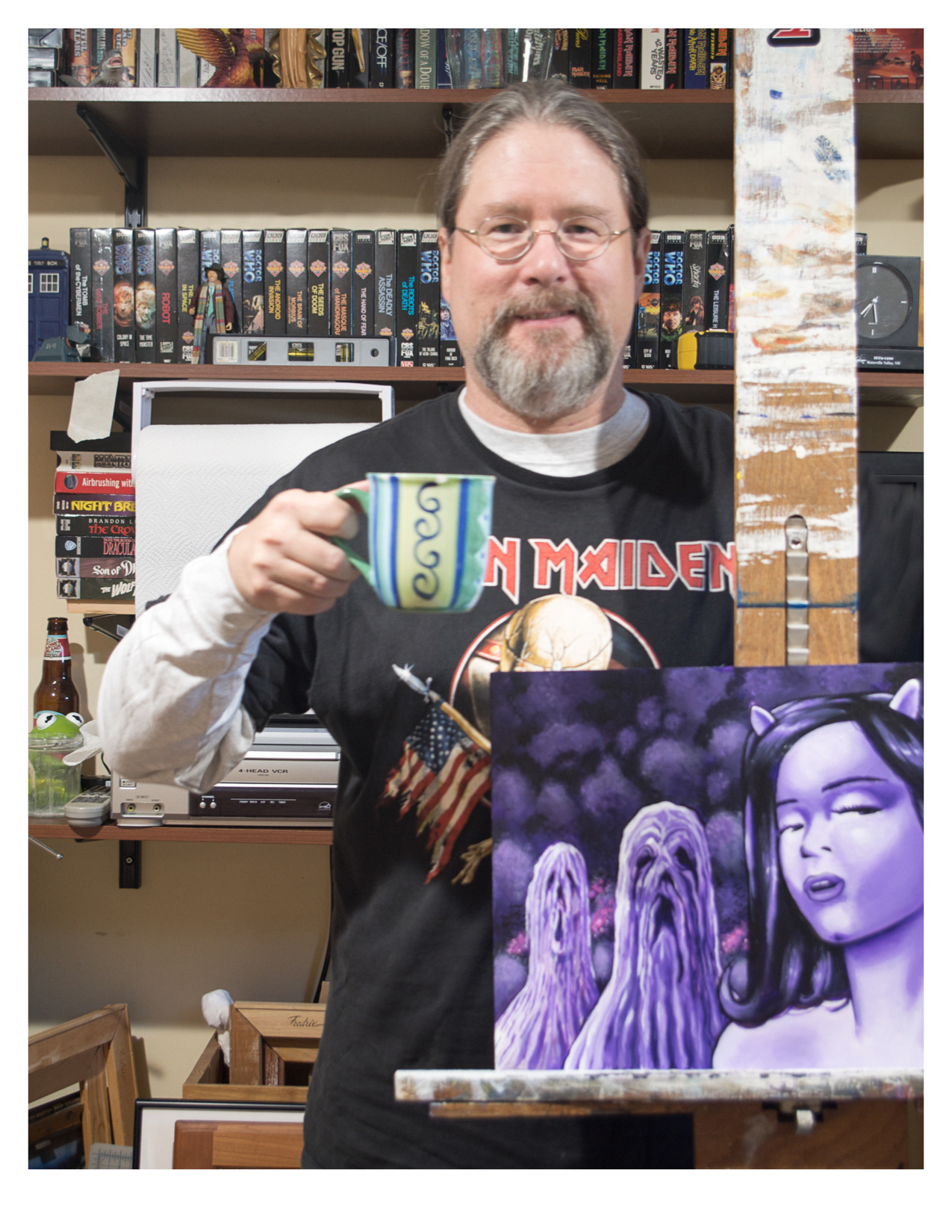 I am a self taught artist living in Bradford, Vermont. I have been drawing and painting for as long as I can remember. Art is as fundamental a part of my life as eating and sleeping.
I grew up in Wolfeboro, NH. There I warped my mind with a steady diet of Doctor Who reruns, Conan books and Iron Maiden albums. And it was at a young age that I first started filling sketchbooks  with strange drawings.
Favorite subjects include fantasy, horror, Pop Surrealism and Portraiture. However, I don't like to limit myself by only painting certain subjects. I really just paint what I feel like painting.
 I am currently working on building up a portfolio of fine art pieces to present to galleries in hopes of finding new markets for my work. You can see the progress I'm making on this site, on my Home Page.
Besides painting and drawing, I am also interested in woodworking. I've been making cabinets and furniture and other carpentry for several decades now. Currently, I work at the world famous furniture company Pompanoosuc Mills, in Thetford, Vermont. I also have a small home woodshop right next to my studio where I make my own frames and painting panels.
I share my life with my spouse Meredith and our cat overlord Honda, a rescue cat from the Lucy Mackenzie Humane Society.
Drawing and  sketching have always been things I've enjoyed doing, all they way back to my young childhood. I've always found solace and safety in the worlds I create myself with paper and pencil. I'm at my happiest when I am sitting with my sketchbook in my lap, with a pencil in one had and a piping hot cup of coffee in the other. S. J. Tucker's music in the background and a purring cat laying next to me, and we're talking heaven. 
In my late teens, I decided I wanted to be a painter. With the naivety of youth, I thought it would be fairly easy to translate my sketching skills to paint. It was just a matter of learning a new medium, right? Sort of like a child who has mastered the tambourine, and decides tomorrow he will learn the grand piano. After several painful decades of truly awful paintings (and a short list of good ones,) I have fond that I am still better at sketching than painting. However, I have found that, to my surprise, I have learned to enjoy painting, even if it didn't bring me the accolades I had hoped for. Painting and sketching are kissing cousins, and it is hard to indulge both passions without falling in love with both. My paintings spring from my sketches, and my sketches are inspired by my paintings. A strange manage a trois that I unwittingly initiated many moons ago, and am powerless to control.
I feel that now that I am a bit longer in the tooth than that pretentious kid who decided he could teach himself to paint, I am bringing a new level of care and insight to my work.  I cringe much less at my new work than I use to, anyway. In fact, I'm quite hopeful that my work has turned a bit of a corner. So here I am, producing a new portfolio that I am hoping will finally bring me a bit of that long hoped for recognition. I'm quite happy with my newer paintings, and I think I'm really making work of substance now. But then, I've told myself that before, and have been disappointed. I suppose I am too close to my own work to be a good judge. And I suppose if this new work doesn't open any doors, posterity will have to decide if I am a 'real' artist, or just an idiot with a paint set. Either way, I still enjoy sketching and painting more than anything else. More than everything else, to be really honest, and I will keep right on making more bad art for as long as I can. So there.
My work was recently on display at the Newport Library Art Center's Regional Juried Exhibit, in  Newport, NH. I was also recently featured at the Pompanoosuc Mills East Thetford, VT Showroom.
I've appeared in numerous juried art exhibits over the years, including shows at the AVA Gallery (Lebanon, NH,) the Springfield Historical Society (Springfield, VT,) and The Newport Library Arts Center (Newport, NH.)
My cousin Amanda Toppin and I have published a children's book through lulu.com; Seedy Treefeather
I am frequently commissioned to paint portraits of people and pets.
I helped illustrate the graphic novel by Dustin Warburton, Strange Things. Unfortunately this is out of print.
I illustrated the children's book The Legend of Casey Rock, by Elizabeth Grey, also out of print. 
I did the logo for the International Cryogenics Conference, Cryocooler 9. 
Other commissions include tattoo designs, murals, posters and custom auto art.
I've appeared in several magazines, including the science fiction magazine, Space & Time, and the trade newsletter Ruger Insight.
For Ten years I ran the t-shirt airbrush studio Night Air Studios, traveling to fairs and festivals in New Hampshire and Vermont, freehand airbrushing t-shirts on the spot for people. It was quite fun at first, but after a while I felt more like a t-shirt vender than an artist, and so I packed it in.
My new best friend in the studio is my vintage Paasche Flow Pencil. This is an awesome tool, one of the art world's best kept secrets. It is sort of an industrial strength fountain pen, that can handle paints as well as inks. I've been experimenting with using it to bridge the gap between my pen and ink drawings and my acrylic paintings. So far the results have been amazing.
I've also been playing around with Stewart Semple's line of small batch acrylics, especially his Black 2.o, and have been really impressed with the quality.